/e/ product description - a pro-privacy Android ROM and online services
What's in /e/?
/e/ is an a mobile ecosystem (ROM + onlines services) that:
is open source
is pro-privacy
is compatible with most existing Android applications
cares about usability
It's the alternative to the Apple/Google duopoly on the smartphone.
It consists of:
an installable mobile operating system for smartphones, which is forked from Android and strongly "ungoogled"
a set of sorted and improved default open source applications
various online services that are linked to the mobile operating system, such as: a meta search engine for the web, drive (with synchronization), mail, calendar, notes, tasks.
1. Description of the /e/ ROM (installable mobile operating system)
The /e/ ROM is a fork of Android (and in particular the LineageOS flavor of Android). At the moment, two versions are supported: Android Nougat and Android Oreo. Android Pie will be supported in a near future.
"Ungoogling"
Google default search engine is removed everywhere and replaced by other services (see below in default apps and services)
Google Services are replaced by microG and alternative services (see below for more details)
DNS settings can be enforced to a specific server
Geolocation is using Mozilla Location Services in addition to GPS
CalDAV/CardDAV management and synchronization application (DAVDroid) is fully integrated with the user account and calendar/contact application
Google servers are not used anymore to check connectivity (ongoing)
User interface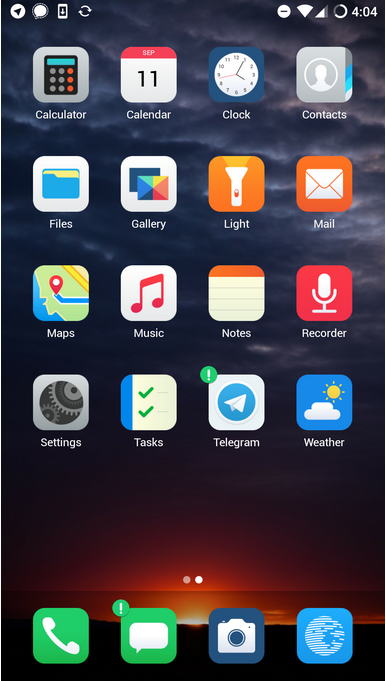 A new launcher "BlissLauncher" was developed to offer an attractive look & feel. It includes a set of icons that were designed for the project. It has application widget support and is using /e/ search engine by default.
Changes have been done in settings to offer a better looking interface
Services
A specific file synchronization service has been developed for multimedia and file contents. It can use /e/ cloud services server or self-hosted /e/ cloud services (ongoing).
The weather provider is the LOS weather provider using data fetched from Open Weather Map
Account Manager has been modified to support /e/ user accounts, with a single identity, thus providing /e/ email, /e/ sync, /e/ calendar, /e/ contacts, /e/ notes, /e/ tasks to users. /e/ cloud server is either at ecloud.global, or self-hosted by the user (ongoing)
2. Description of /e/ default applications
All pre-installed applications are open source applications but the Maps app (read details about this in the FAQ).
Web-browser: an an ungoogled fork of Chromium, built from Bromite patch-sets with specific /e/ settings
Mail: a fork of K9-mail for better user experience, some bugfixes and support for oauth, with OpenKeyChain for PGP encryption support
SMS: a fork of QKSMS
Camera: OpenCamera
Dialer: default Android dialer application
Calendar: a fork of Etar calendar, that fixes crashes with calendar invitations
Contact: default Android contact application
Clock: a fork of Android deskclock application
Gallery: default Android gallery3d application
Filemanager: Android documentsui application
Sound recorder: default LineageOS sound recorder
Calculator: default Android calculator2 application
Keyboard: default Android keyboard
Android application installer is /e/ application installer (ongoing)
Other preinstalled applications:
Maps: MagicEarth (read the FAQ about its license)
Weather: a fork of GoodWeather for a modified user interface, using data fetched from Open Weather Map
Instant messaging: Telegram
PDF reader: MuPDF
Notes: a fork of NextCloud Notes to support /e/ online accounts
Tasks: OpenTasks
Light: a fork of Simple-FlashLight
3. Description of /e/ online services at ecloud.global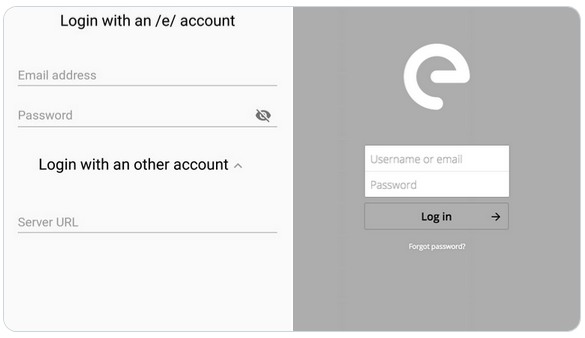 /e/ "spot" at https://spot.ecloud.global search engine is a fork of SearX meta-search engine, with major look&feel improvements and peformance improvements
/e/ online drive, mail, calendar, contacts, notes, tasks is using NextCloud, Postfix and Dovecot. It's been integrated to offer a single login identity. Users can retrieve their data online at https://ecloud.global services, or self-hosted on their own server (ongoing)
/e/ Development status
Status
Next majors milestones:
integration of the /e/ android application installer
release of /e/ cloud "self-hosted" packages
/e/ will soon be available in two versions:

standard /e/ with default applications
/e/ with minimal number of default/pre-installed applications
Status of ungoogling & pro-privacy features
What to expect in futher releases?
In 2019 we also plan to:
add Android Pie support
introduce more pro-privacy features (VPN...)
add the capability to uninstall most pre-installed applications
add several user profile to impact the choice of default applications installed during first-time usage wizard
add Progressive Web Apps to the application repository, and corresponding Google-free SDKs for app publishers, because we believe that web apps is the future for most mobile applications.
Want to give /e/ a try?