Issue setting DoH in web browser
/e/ version: 0.16
Device model(s): any
Summary
It seems that custom DoH in browser (Bromite) doesn't work as expected.
The problem
A user reported that he couldn't set specific DoH URL in Browser->Settings->Privacy and Security->Use secure DNS->Choose another Provider->Custom
https://community.e.foundation/t/probleme-avec-le-doh-dans-le-e-browser/31501/4
Example: https://9.9.9.9/dns-query is expected to work but returns an error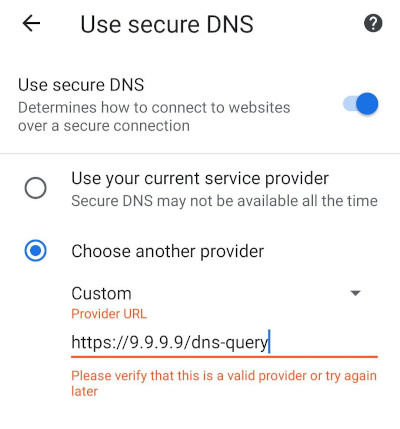 What is the expected correct behavior?
Custom DoH should be possible as explained in Bromite documentation.
Technical informations
Relevant logs (adb logcat)
Relevant screenshots
Solutions
Workaround
Quad9 is part of the default DNS provider list. So the user as to select it in the drop down list to make it work.
Possible fixes
Edited
by
Romain Hunault