Cannot delete collection (google address book), error foundation.e.dav4jvm.exception.NotFoundException HTTP 404
/e/ version: 0.9-20200626
Device model: LG-H850
When it started to occur: NA
Reproducible with the last /e/ version: yes
Reproducible with LineageOS: NA
Summary
Trying to remove the Google address book collection from the server throws error.
The device is unusable
The bug is the source of a data loss or a big waste of time
The bug concerns a third party app -- collection is at Google
The bug concerns security
The bug concerns privacy
The problem
Steps to reproduce
Have a Google account read into the device. Go to Account manager, Contact tab and choose to Delete collection. Error is thrown foundation.e.dav4jvm.exception.NotFoundException HTTP 404 Maybe the collections cannot be deleted from the Google server.
What is the current behavior?
System error is shown.
What is the expected correct behavior?
Explanation is shown: "The server does not allow to delete the collection, visit your server via website."
Technical informations
Relevant logs (adb logcat)
HTTP REQUEST:




Request{method=DELETE, url=https://apidata.googleusercontent.com/carddav/v1/principals/user.name@gmail.com/lists/default/, tags={}}






HTTP RESPONSE:




Response{protocol=h2, code=404, message=, url=https://apidata.googleusercontent.com/carddav/v1/principals/user.name@gmail.com/lists/default/}




<!DOCTYPE html>




<html lang=en>




  <meta charset=utf-8>




  <meta name=viewport content="initial-scale=1, minimum-scale=1, width=device-width">




  <title>Error 404 (Not Found)!!1</title>




  <style>




    *{margin:0;padding:0}html,code{font:15px/22px arial,sans-serif}html{background:#fff;color:#222;padding:15px}body{margin:7% auto 0;max-width:390px;min-height:180px;padding:30px 0 15px}* > body{background:url(//www.google.com/images/errors/robot.png) 100% 5px no-repeat;padding-right:205px}p{margin:11px 0 22px;overflow:hidden}ins{color:#777;text-decoration:none}a img{border:0}@media screen and (max-width:772px){body{background:none;margin-top:0;max-width:none;padding-right:0}}#logo{background:url(//www.google.com/images/branding/googlelogo/1x/googlelogo_color_150x54dp.png) no-repeat;margin-left:-5px}@media only screen and (min-resolution:192dpi){#logo{background:url(//www.google.com/images/branding/googlelogo/2x/googlelogo_color_150x54dp.png) no-repeat 0% 0%/100% 100%;-moz-border-image:url(//www.google.com/images/branding/googlelogo/2x/googlelogo_color_150x54dp.png) 0}}@media only screen and (-webkit-min-device-pixel-ratio:2){#logo{background:url(//www.google.com/images/branding/googlelogo/2x/googlelogo_color_150x54dp.png) no-repeat;-webkit-background-size:100% 100%}}#logo{display:inline-block;height:54px;width:150px}




  </style>




  <a href=//www.google.com/><span id=logo aria-label=Google></span></a>




  <p><b>404.</b> <ins>That's an error.</ins>




  <p>The requested URL <code>/carddav/v1/principals/user.name@gmail.com/lists/default/</code> was not found on this server.  <ins>That's all we know.</ins>



Relevant screenshots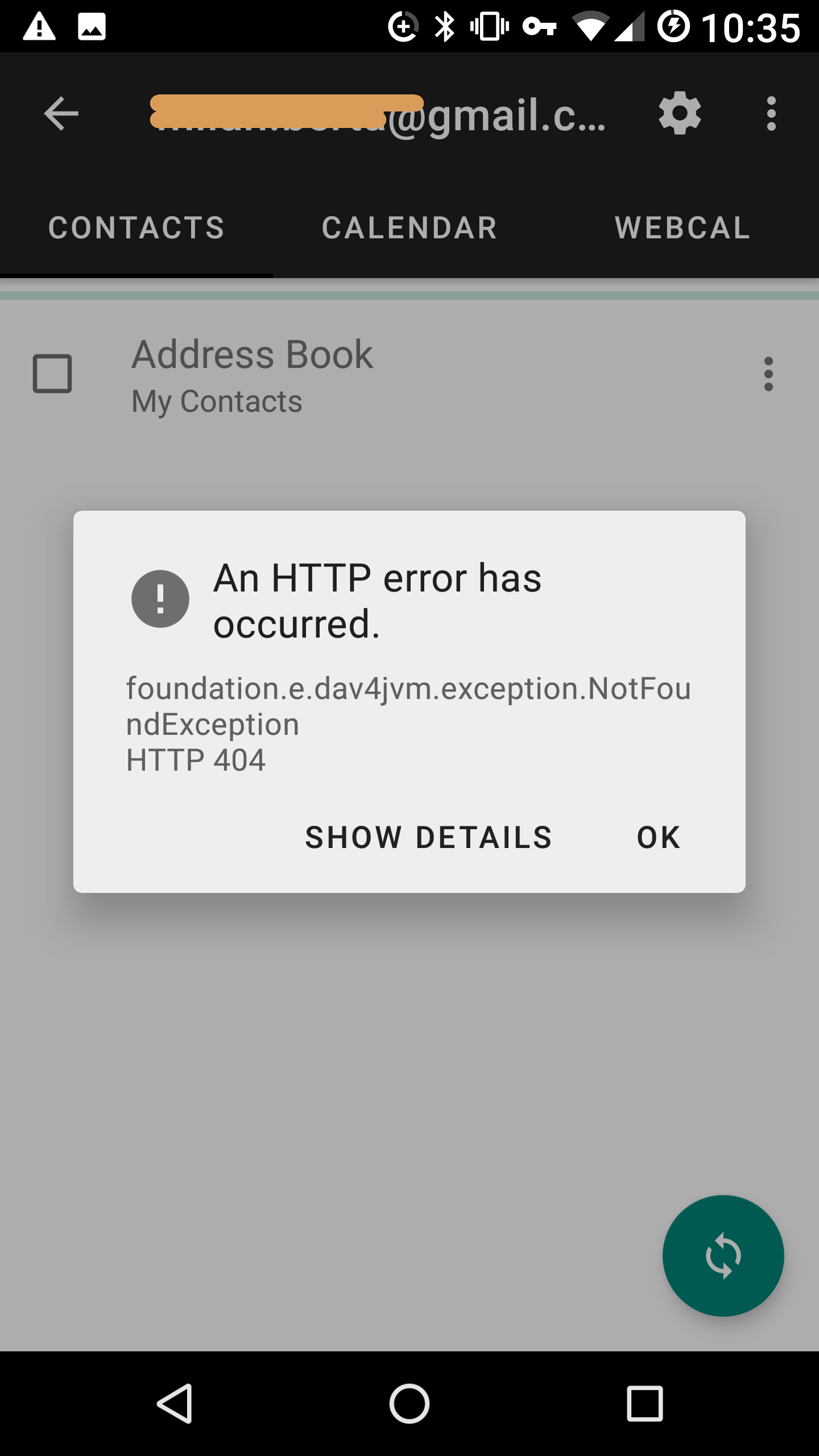 Solutions
Workaround
Possible fixes